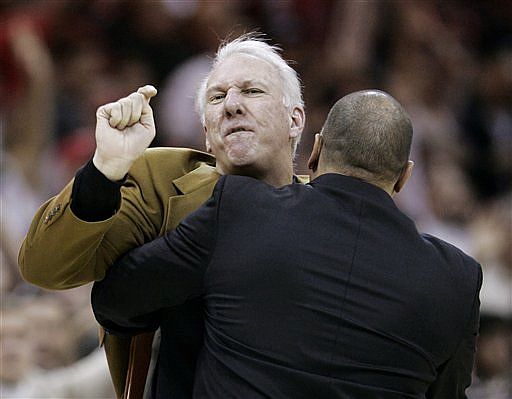 Last week I wrote an anti-Corey Maggette screed that ended with me claiming that "no smart front office would go near him". Then the next day I saw an article on Hoopshype where Gregg Popovich was discussing their failed attempt to land Maggette during the offseason.
Never mind that Maggette choosing Golden State over San Antonio tells you all you need to know about him, the whole thing is mind-boggling- the Spurs went after Maggette?
Obviously I missed that little tidbit when I was moving across the country over the summer (along with the memo about it still being fashionable for women to wear those ridiculous oversized sunglasses), but initially I couldn't believe the Spurs could be so dumb as to go after Maggette. Sure, he can fill it up, and the Spurs could use a consistent wing scorer, but he does so at the expense of his teammates. How could the Spurs, the class of the league, go after Maggette?
Then it occurred to me- are the Spurs really that smart? And the answer, well, it's debatable.
Yeah, they struck it rich with Tim Duncan. And Manu Ginobili was a terrific choice. As was Tony Parker. But, uh, isn't that about it?
And while people laud the Spurs for being patient with Parker, they really weren't. Early in his career Popovich treated him like Oprah treats a buffet. And early on, the Spurs were ready to dump Parker to sign Jason Kidd for a max contract. While Kidd hadn't yet deteriorated like he has now and could have maybe led the Spurs to their later titles, Parker has been the better fit. Kidd has nowhere near his speed, and Parker's ability to penetrate is what opens up easy shots for Duncan and Ginobili. Not to mention that he has another 8-10 good years left. Dumping Parker for Kidd would have been like dumping Kristen Bell for Nicole Kidman. Yeah, Kidman's got a few good years left, but Bell's upside is much, much higher.
And while the Spurs deserve credit for their home-grown Big Three, they haven't really done anything to build for their future.
Look, you can't argue with the results, 4 titles in 10 years is a run anyone would kill for.
But sooner or later the wheels will come off, and there won't be a plan in place to keep them at a high level. Instead of grooming young players into the system and letting them learn, their supporting casts have been veterans near the end of their careers- Robert Horry, Michael Finley, Brent Barry, etc. They've refused to go into the luxury tax, so draft picks have been sold off or spent on European players who never make the jump.
If you look at Detroit, while I've always considered Joe Dumars to be overrated, he's done a good job of bringing in young players to learn the system, and guys like Rodney Stuckey, Amir Johnson and Jason Maxiell will be contributors when Iverson, Wallace and Hamilton are gone.
But the Spurs don't think that way. Big men tend to go off a cliff, and while Duncan is a smart enough player to find ways to be effective as he gets older, pretty soon there's bound to be a drop. Ginobili's already shown wear and tear, and who can blame him? All that flopping onto a hard surface has to be hard on the back.
Once those guys start brining diminishing returns, where will that leave the Spurs? San Antonio isn't the type of city marquee free agents will flock to, and they aren't likely to land another Tim Duncan in the draft again.
The reality for the Spurs is that it's going to be hard for this team to stay with the Lakers right now. It's getting to a point where they need to plan ahead and stop relying on plucking guys like Roger Mason off the scrap heap to scrape by.
But they've shown no inclination, or ability, to do that.
Graham